When Your Child Climbs Behind the Wheel:
Tips for Parents of Teenage Drivers
As a parent, it's the day you've both anticipated and dreaded: your child's sixteenth birthday. Armed with a driver's license, your child is about to experience a new found freedom that can free you up as well, but your excitement is tainted by the knowledge that, statistically, teenage drivers are at a greater risk for motor vehicle crashes. Indeed, the statistics are alarming.
Safe Young Drivers: A Guide for Parents and Teens
Click on the book
to save your
young driver!
(Mountain Lake Park, Md., Mountain Lake Press, 2008) ISBN-13: 978-0-9814773-1-2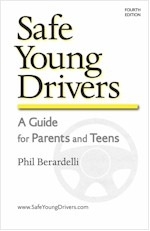 Every year, more than 5,000 teenagers of driving age die in crashes; slightly more than half are drivers. Two-thirds of teen passenger deaths occur in vehicles driven by other teens. According to the National Safety Council, drivers between 16 and 17 are three times more likely to be killed in a traffic crash than people between the ages of 25 and 64.
You can improve your child's odds of staying safe on the road with these tips:
Make sure your child has plenty of supervised practice before he/she drives solo. Many states issue driving permits that require a minimum of six months of supervised driving before a teen can obtain a driver's license.
Seat belt use should be mandatory. Actually, the earlier you instill this habit in your children, the better. As soon as they are old enough to ride without a car seat, your children should learn to buckle up every time they ride in a vehicle.
Whenever possible, have your children drive cars equipped with air bags and anti-lock brakes. Generally, larger cars are also safer than compacts.
Don't hesitate to enforce strict driving rules that address issues such as speeding and drinking and driving.
Keeping Insurance Costs Down
There's no escaping an increase in car insurance costs when your teenager takes the wheel, but you can limit the increase by adhering to the following:
Add your teen to your own policy. Purchasing a separate policy for him/her will cost you more.
Have your teen drive the least expensive car you own, and, if possible, designate him/her as an occasional driver.
Ask your insurance agent about premium discounts for teens who have completed a driver's education course and/or who earn good grades.
If your child attends college more than 100 miles from your home, you may be able to remove him/her from your policy.
Courtesy of Article Resource Association, http://www.aracopy.com